Cities: Skylines is a city building simulation developed by Colossal Order and published by Paradox Interactive. Cities: Skylines was released for digital distribution on Steam for Windows, OS X and Linux. The Xbox One and Windows 10 version was released on 21 April 2016. The PlayStation 4 version was released on 15 August 2017, and the Nintendo Switch version was released on 13 September 2018.
As the main game of the franchise, Cities: Skylines offers the basic features to construct a typical, thriving city.[1]
Multi-tiered and challenging simulation: As the mayor of the city, cities will be faced with the basic necessities to become a thriving city, such as education, safety, fire, water and sewage, and healthcare.
Extensive local traffic simulation: Traffic is well-crafted and simulated to portray a bustling city.
Extensive modding support: Through the Steam workshop, modders can create and share their creations to expand the creativity.
Expansion packs
Edit
After DarkEdit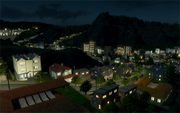 Main article: After Dark
After Dark is the first expansion pack announced for Cities: Skylines. After Dark revolves around nightly activities, such as leisure and luxury, increased criminal activity, and the day and night cycle.[2]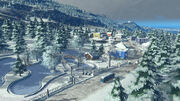 Main article: Snowfall
Snowfall is the second expansion pack announced for Cities: Skylines. The central focus of Snowfall introduces the weather system, including rain, fog, and snowfall. New transportation methods are introduced, such as tram lines. Snowplow services can maintain the shape of the roads to keep traffic flowing. Water-based heating systems can meet demands for warmth.[3]
Additional content
Edit
Digital Deluxe Edition
Edit
The Digital Deluxe Edition can be purchased separately or together with Cities: Skylines. The Digital Deluxe Edition requires the main game. The content pack contains five real-life historical monuments:
The deluxe edition also includes fourteen unique soundtracks and a digital art book containing 32 hand-drawn concepts behind the buildings.[4]
Match Day
Edit

On June 9, 2016, a new free downloadable content became available. Match Day included a football stadium, football match mechanics, new policies, new chirps, and a new hat for Chirper.
Pre-order content
Edit
The pre-order content was only available to those who have purchased Cities: Skylines prior to the release of the game.[5] As of June 2016, all five parks became available in the base game content.[6]
The pre-order content included:
Five parks

Basketball court
Botanical garden
Bouncy castle
Dog park
Merry-go-round

Digital postcards
Concept art book
System requirements
Edit
Please do also note that Cities: Skylines is also avalible on Xbox one and PS4.
Minimum


OS: Microsoft Windows XP/Vista/7/8/8.1 (64-bit)
Processor: Intel Core 2 Duo, 3.0GHz or AMD Athlon 64 X2 6400+, 3.2GHz
Memory: 4 GB RAM
Graphics: nVIDIA GeForce GTX 260, 512 MB or ATI Radeon HD 5670, 512 MB (Does not support Intel Integrated Graphics Cards)
DirectX: Version 9.0c
Network: Broadband Internet connection
Hard Drive: 4 GB available space


Recommended


OS: Microsoft Windows 7/8 (64-bit)
Processor: Intel Core i5-3470, 3.20GHz or AMD FX-6300, 3.5Ghz
Memory: 6 GB RAM
Graphics: nVIDIA GeForce GTX 660, 2 GB or AMD Radeon HD 7870, 2 GB (Does not support Intel Integrated Graphics Cards)
DirectX: Version 11
Network: Broadband Internet connection
Hard Drive: 4 GB available space

Minimum


OS: OS X 10.9 (64-bit)
Processor: Intel Core 2 Duo, 3.0GHz or AMD Athlon 64 X2 6400+, 3.2GHz
Memory: 4 GB RAM
Graphics: nVIDIA GeForce GTX 260, 512 MB or ATI Radeon HD 5670, 512 MB (Does not support Intel Integrated Graphics Cards)
Network: Broadband Internet connection
Hard Drive: 4 GB available space


Recommended


OS: OS X 10.10 (64-bit)
Processor: Intel Core i5-3470, 3.20GHz or AMD FX-6300, 3.5Ghz
Memory: 6 GB RAM
Graphics: nVIDIA GeForce GTX 660, 2 GB or AMD Radeon HD 7870, 2 GB (Does not support Intel Integrated Graphics Cards)
Network: Broadband Internet connection
Hard Drive: 4 GB available space

Minimum


OS: Ubuntu 12.04 (64-bit)
Processor: Intel Core 2 Duo, 3.0GHz or AMD Athlon 64 X2 6400+, 3.2GHz
Memory: 4 GB RAM
Graphics: nVIDIA GeForce GTX 260, 512 MB or ATI Radeon HD 5670, 512 MB (Does not support Intel Integrated Graphics Cards)
Network: Broadband Internet connection
Hard Drive: 4 GB available space


Recommended


OS: Ubuntu 14.10 (64-bit)
Processor: Intel Core i5-3470, 3.20GHz or AMD FX-6300, 3.5Ghz
Memory: 6 GB RAM
Graphics: nVIDIA GeForce GTX 660, 2 GB or AMD Radeon HD 7870, 2 GB (Does not support Intel Integrated Graphics Cards)
Network: Broadband Internet connection
Hard Drive: 4 GB available space

References
Edit